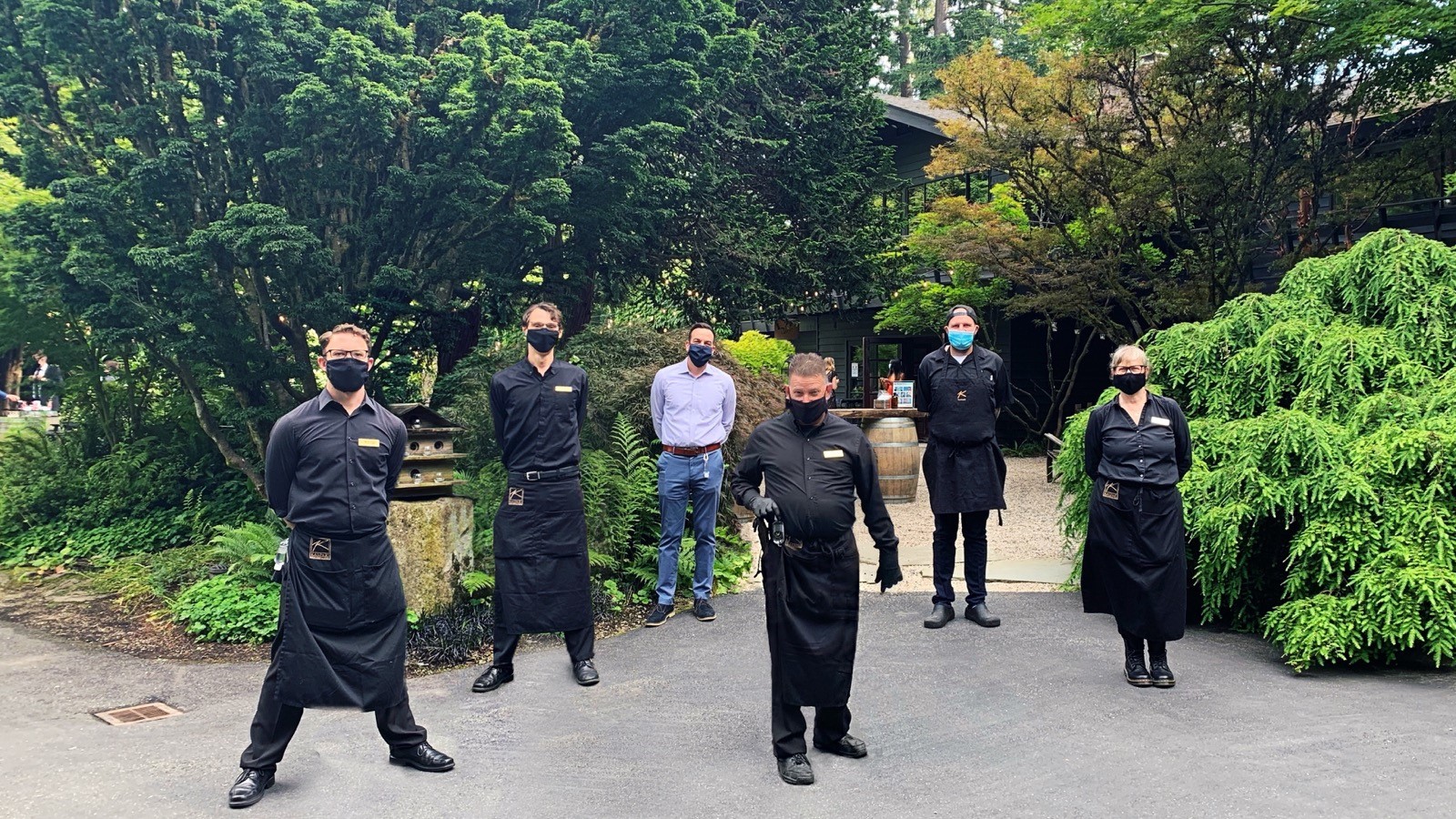 Care for our guests
Safe Service

Staff PPE

All staff members will wear gloves and masks as requested.

Handwashing

Staff washes hands frequently, at minimum every 30 minutes.

Hand Sanitizer

Hand sanitizer available for guests and staff on site at our events.

Plexiglass Barriers

Plexiglass are used in appropriate areas.

Safe Food Handling

Gloves and masks are used when handling food. Gloves changed frequently.

Practice Social Distancing

Work stations (kitchen and office) spaced 6 or more feet apart.

Food Handlers Permit

Team members have completed the Food Handlers sanitation class.

Sanitizing Entire Building

The entire building (kitchen, coolers, office, door handles, telephones, etc.) sanitized frequently.

Safety and Sanitation Manager

Keeps a checklist and tracks all sanitation practices.

Uniform Sanitation

Chef apparel stays at our commissary and is washed daily.

Sanitizing Equipment

Tables, chairs and event equipment cleaned and sanitized after every use.

Contactless Pickup and Delivery

Contactless pickup and delivery is available for all orders.

Occupancy Guidelines

Seating capacity at venues based on state/local guidelines.
Care for our team
Hand Sanitizer

Hand sanitizer available at all points of entry/exit throughout our commissary.

Daily Temperature Check

Employees must pass a temperature and health check prior to each shift.

Health & Safety Check

All employees complete an Attestation for Worksite Entry document.

Building Safety

The entire building is locked and all entrants must be checked in.

Sick Pay

Sick pay is provided to employees.

Daily Meals

Staff is provided with a nutritious daily meal to power them through the day.
FAQs
Q: Can I still plan my event?

A:

Yes, we are ready to plan your event! While details are changing often, we are following all CDC, WA State and Local County guidelines and we are staying up-to-date with details as they change. More information for Washington State phases can be found here.

Q: How will I know my event is safe?

A:

Our team at Kaspars is staying up-to-date and all details surrounding safe service. We developed a handbook that highlights some key practices we are following to keep our staff and guests safe. You will see details such as wearing masks and gloves at all times, hand washing timers, daily temperature checks and many more details.

Q: What are the safest food options?

A:

At this time, the safest food option is individual portions of food. This can be presented in a to-go/delivery style personalized meal, a plated dinner and/or a served buffet.
Questions? Concerns?
We're happy to help you gather safely.
These are challenging times, but we know that as a company and community, we can get through this together. We thank you from the bottom of our hearts for your support. Our team greatly appreciates all of our amazing partnerships and we are looking forward to another 30 years. Thank you and stay safe, Nancy & Kaspar