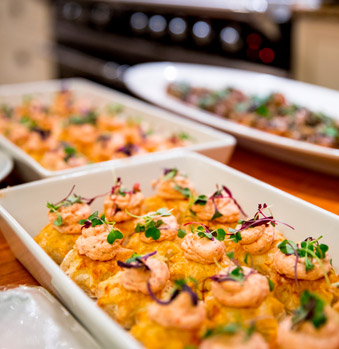 A Seattle Catering Tradition Unlike Any Other
For nearly 30 years, Kaspars Catering & Events has been transforming moments into memories throughout Seattle, Bellevue and the Puget Sound area. Our experienced and inventive staff deliver a stress-free event planning process with simply magnificent results.
Renowned chef, Kaspar Donier, and his award-winning Seattle culinary team will guide you through every step of menu planning. We use fresh farm-to-table ingredients and search for the most tantalizing flavor harmonies to honor your special occasion.
Seattle Events with
a Quiet Confidence
We fashion each event to your tastes, theme, budget and timeline from start to finish. We are full service caterers for:
A Thoughtful Search for New Flavors and Presentations
Our Pacific Northwest cuisine incorporates European and Asian culinary traditions. We offer organic catering and other specialties to meet your dietary requests and personalize your menu.
Professional Catering,
Built on Trust
With our inventive staff, world-class kitchen and professional event specialists, Kaspars is consistently recognized as the best professional caterer in the greater Seattle area.