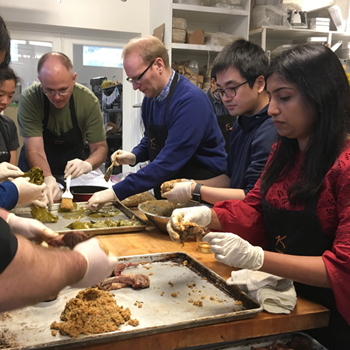 Team Building with Taste!
Chef Kaspar Donier invites you to learn professional cooking methods from the experts. Kaspars' private cooking classes are ideal for corporate team-building, birthday celebrations, bridal showers, family reunions or any other special occasions.
Are you searching for the perfect team-building event for your group? Roll up your sleeves, put on an apron and get ready to have some fun in a Kaspars' Hands-On Cooking Class.
Prepare a Six-Course Meal
Your group will create a six-course meal under the guidance of our experienced chefs. Our interactive classes are ideal for celebrations and serve as effective team-building exercises for many Seattle organizations, including Microsoft and Boeing.
Learn professional cooking methods and techniques
Have fun working together while making a fabulous meal from scratch
Receive personal attention from our knowledgeable chefs
Select your own six-course menu
Enjoy the Results
After preparing your feast, sip wine and dine together on the tasty results of your efforts. Take home a souvenir Kaspars' signature apron and show off your new talents to your family and friends.
Ready to Start Cooking?
Give us a call at 206.298.0123 or click below to find out more about scheduling a cooking class for your team.