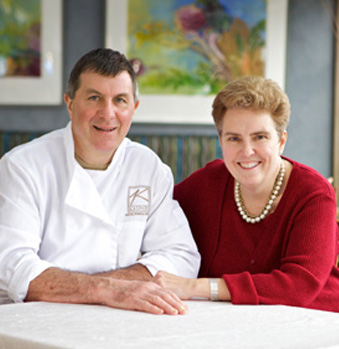 A Perfect Pairing
Creating the perfect special event is an art form. The same can be said for the working relationship of award-winning chef Kaspar Donier and masterful event planner Nancy Donier. Their internationally recognized expertise draws the highest praise from appreciative clients and industry peers. Kaspar and Nancy Donier are the perfect pair in which to entrust your special event.
From Zurich to Vancouver to Texas to Seattle
A Swiss Native, Kaspar Donier began his formal training as a 16-year-old chef apprentice in Zurich. His culinary intuition and creative genius were rewarded with successive appointments in Five Star hotels in St. Moritz, Lausanne, and with Hilton Worldwide.
While in Vancouver, Kaspar met Nancy who was working at The Hotel Vancouver, planning and budgeting of banquets and events. A language barrier didn't stop the Swiss chef and the lovely Canadian from laughing and flirting under the bustling ballroom chandeliers.
Nancy joined the respected accounting firm KPMG to work with catering businesses and upscale restaurateurs. Kaspar became chef at The Four Seasons Vancouver, where he quickly moved up the ranks to Executive Sous Chef. Eventually, he was offered the position of Executive Chef of the Four Seasons in Houston. The newlyweds embraced adventure and moved to Texas.
In Houston, Nancy earned her accreditation as a Certified Public Accountant, while Kaspar supervised the menu planning and food preparation for the Four Seasons Hotel. The couple began fine-tuning a business model for their dream restaurant. All the while, the Pacific Northwest kept calling.
Redefining Pacific Northwest Cuisine
1989, Kaspar's Restaurant opened in Seattle to great acclaim, offering an exquisite dining experience with innovative menus that highlighted local flavors. Thoughtful staging and gracious service provided a perfect ambiance for Kaspar's creative cuisine.
Kaspar's Restaurant became an immediate foodie favorite, receiving rave reviews and enjoying over a decade on "Seattle's Best Restaurant" lists. An increasingly environmentally conscious Seattle, seeking sophisticated cuisine embraced Kaspars and its progressive mission and menus.
A New Vision – Catering
It soon became clear that Nancy and Kaspar had a true passion for taking a client's special event vision and making it a reality. They decided to shift focus from a brick and mortar dining experience to one that offered a more personal interaction, unlimited venue creativity and endless opportunities for culinary presentation.
In 2005, Kaspars Catering & Events was launched to deliver the finest event experience possible. Working with polished and tenured staff, Kaspars now orchestrates events on both intimate and grand scales. Kaspars has perfected a system of extraordinary service that smoothly adapts to any place and circumstance.
Life in the Pacific Northwest
When Nancy and Kaspar are not producing memorable events, they love to spend time with their daughters, Wendy and Liza, and their friends at home or at their Springhill farm. They enjoy traveling to discover new menu ideas and stay up-to-date about culinary and catering trends for your next special event.
The foundation of Nancy and Kaspar Donier's business identity is to deliver every event detail with careful thought and grace, honoring every business relationship as if it were their own. A perfect pairing.
Let's Start Planning Your Event!
Give us a call at 206.298.0123 or click the button below to start planning your next event.